Bathrooms forming an integrated whole

Bathrooms made from HPL materials look noble and fascinating: The uniform design of walls and floors has a calming effect, as nothing disturbs the view. A bathroom with minmal joints mets all the demands at modern bathroom design: pure aesthetics, great luxury, high-quality materials and undisturbed peace and quiet. They are more than just practical wet cells for the necessary personal hygiene. Body, mind and soul can relax and recuperate from the hectic of everyday life.
Big choice of decors
The innovative, large-format sheets for walls and furniture made from HPL provide many practical advantages such as easy cleaning; they serve high demands on hygiene, offer a good room climate by means of back ventilation and easy retrofitting because of the reversible system. The aesthetic aspect is obvious. The flush use of the elements has a uniform effect. There is almost no limit to the choice of decors, surfaces and colours. Diverse looks create individual styles for your bathroom. For our product partner see: Villeroy und Boch
The System
Through their extensive design with very few joints, our bathroom modules offer enormous advantages: Reducing the number of joins requires considerably less time for cleaning. For less edges and joints means less dirt and bacteria, and mould doesn't even develop. The surfaces can easily be disinfected by wiping which is favourable for sensitive areas.
Retrofitting and modernizing

A speciality of our GHK DOMO bathroom modules made from high-quality HPL is certainly the reversibility of the system. Behind the wall panels there is a highly loadable system which is easily and flexibly accessible for technical maintenance and changes at any time. This reversibility offers unestimable advantages also for retrofitting accessories or supporting equipment in nursing homes or hotels.
Individual adjustability

The toilet can be adjusted in height (also with washlet function), additional handles can be retrofitted anywhere – also for a short time. The floor level shower area is slip-resistant and can be conceived optically or tactilely. In general, all surfaces and functional products can be conceived by feeling, seeing and hearing according to the two-senses-principle.
The shower offers enough room to sit in and can be opened wide enough for wheelchair or shower stool access and for support by a caregiver. For the washstands, too, we aim at the highest degree of independence possible. By adjusting their height they can be comfortably used sitting as well as standing. Both situations easily allow access tot he oversized mirrored cabinet. Long LED light strips on both sides ensure good lighting for the person in the mirror. Wall fittings also allow washing your own hair at the washstand.
Your advantages

protects your back through aids

rounded edges and corners

height-adjustable washbasins

clearance for wheel-chairs
The System
Central material for GHK DOMO is HPL (High Pressure Laminate). HPL has an environmental product declaration (EPD) for the highest achievable level in accordance with ISO 14020, type III.
HPL is environmentally neutral in its impact, because:
it has a very long lifespan due to its characteristics

it is almost free from emissions in its use

it consists of 70% cellulose and 30% resins

HPL refuse can be exploited thermically in plants authorized by the authorities
GHK DOMO is certified by TÜV. Without exception we only cooperate with suppliers who invest a lot of trouble into sustainable development and eco-efficiency. Carbon footprint is always part of our considerations. This is why our whole plant – administration included – runs on ecological power.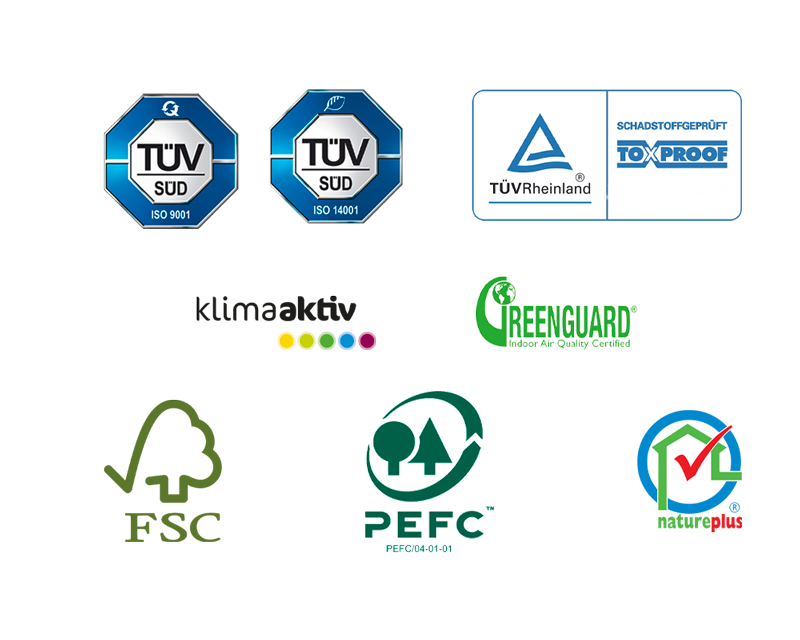 The System
HPL High Pressure Laminate – extremely resilient:
HPL (High Pressure Laminate) is an easy-care and robust all-rounder which can be used as material in many different areas. The material is decorative, robust, scratch-proof and wear-resistant, anti-static, damp- and acid-resistant, food-safe and the product characteristics make the compact sheets flexible for many fields of application. For a long time HPL has been highly valued as material in the healthcare system, for laboratory equipment, shop and booth construction, wall facing, in retirement and nursing homes as well as in hotels, swimmingpools and spa facilities.
HPL is environmentally neutral in its impact and consists of 70% regrowing raw materials such as cellulose and 30% resins, which allows for a thermic utilization at the end of its lifespan.
More hygiene by less joints
This factor has a direct and immediate effect on the time necessary for the daily cleaning of surfaces. Many more joints provide many more dirt edges – often with coarse pores – where bacteria and mould are deposited if they are not specifically cleaned and dried every day.
Your advantages:
flush connection of elements
Chromatic aberration due to printing.
The System
Retrofitting and modernizing.
Building rubble, dirt and noise? Not with GHK DOMO's bathroom modules. Your old tiles can stay where they are. We have developed a specific substructure enabling loadable superstructures. The modules are erected on the existing possibilities in your bathroom. Connections and technology are pre-installed in our factory thus saving time, avoiding noise and saving costs. Our flexible wall systems can be fitted with seats and handles, railing systems and shelves, thanks to their reversibility also at a later point in time.
The GHK wall system provides flexible options for renovating or modernizing every bathroom – quick, clean and easy. Also, a partial renovation poses no problem.
Old bathrooms, getting on in years, in new design, endless design options, no time-consuming construction work and additionally the easiest cleaning and care without tiles – this is the most modern way to renovate your bathroom.
These modules mean for your modernization:
little nuisance for your everyday life/your tenant concerning noise and dirt (existing bases can be used)

extremely short assembly time (the wall system is pre-fabricated and only assembled on site)

very fast response time and availability

simplifies coordination with other trades

should the costs fort he system be higher, they are more than compensated for by these advantages
patial renovation possible
The System
Easy cleaning and perfect hygiene
We can only enjoy a hygienic and clean bathroom. But for most people, cleaning the bathroom is a nuisance. And for hotels, nursing homes and hospitals, time-consuming cleaning of bathrooms is a considerable cost factor. If you want to reduce costs, you can do that by buying new bathroom equipment made of GHK DOMO's flexible bathroom modules which require distinctly less time for cleaning and maintenance. HPL wall covering offer perfect hygiene and optimal easy care.
Developed by experts.
Looking at our HPL bathroom modules you know that they were developed in close cooperation with nursing experts. Few edges and corners and easy handling make everyday nursing easier. Easy cleaning and a long lifespan are the prominent characteristics of GHK DOMO bathroom modules.
Bathrooms with less joints are not only especially timeless and elegant in their appearance, but they are also easier to care for. The almost joint-less design offers no breeding ground for bacteria and meets highest hygienic requirements. There is no unpleasant discolouration for example by dirt.
Shower stall take the longest time to clean so that we have conceived of something special: HPL is not only an extremely impact-proof material, but is also excellently suited for the floor level enclosing of shower areas thus providing perfect design options for fully accessible bathrooms.
Your advantages:
Individual advice desired?
Simply arrange a consultation appointment with our sales experts or call us during business hours at +49 5382 95 50 0. We look forward to hearing from you!
Individual advice desired?
Simply arrange a consultation appointment with our sales experts or call us during business hours at +49 5382 95 50 0. We look forward to hearing from you!